Ion Exchange Resin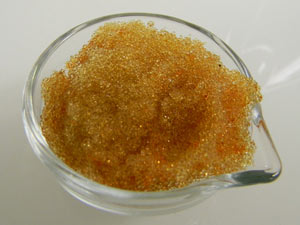 AMSAT provides various types of Ion Exchange Resins based on crosslinked
polystyrene substrate. Our Ion Exchange Resins are used in a variety of processes,
such as separation, purification and decontamination. In addition, macroporous
Ion Exchange Resins can act as decolorization agents, which absorb color
impurities with high efficiency.

| PRODUCT | IXSAC-200Na | IXSAC-120Na | IXSAC-120H | IXSBA-402CI | IXSBA-900CI | IXWBA-96 |
| --- | --- | --- | --- | --- | --- | --- |
| Description | Strong acid cation | Strong acid cation | Strong acid cation | Strong base anion | Strong base anion | Weak base anion |
| Ionic Form | Na+ | Na+ | H+ | Cl- | Cl- | Free Base |
| Functional Group | sulfonic acid | sulfonate | sulfonic acid | trimethyl ammonium | trimethyl ammonium | tertiary amine |
| Structure | macroporous | gel | macroporous | gel, type 1 | macroporous | macroporous |
| Uniformity Coefficient | ≤ 1.70 | ≤ 1.90 | ≤ 1.80 | ≤ 1.60 | ≤ 1.80 | ≤ 1.80 |
| Nominal Size Range | 0.60-0.85 mm | 0.60-0.80 mm | 0.60-0.85 mm | 0.60-0.80 mm | 0.65-0.80 mm | 0.60-0.80 mm |
| Packing Weight | 800 g/L | 840 g/L | 800 g/L | 670 g/L | 700 g/L | 670 g/L |
| Total Capacity | ≥ 1.70 eq/L | ≥ 2.0 eq/L | ≥ 1.80 eq/L | ≥ 1.20 eq/L | ≥ 1.00 eq/L | ≥ 1.25 eq/L |
| Volume Change | Na+ → H+ ≤ 6% | Na+ → H+ ≤ 11% | Na+ → H+ ≤ 11% | Cl- → OH- ≤ 30% | Cl- → OH- ≤ 25% | FB → Cl- ≤ 15% |